Collin Blodgett
Translation Coordinator

Technical Information & Planning Department
Collin Blodgett joined the company in 2011 and was originally responsible for checking the technical accuracy of content for various automotive manuals and documents. He is now the head translator for all owner's manuals and coordinates the localization of these documents into various other languages. In his spare time Collin indulges in his two main passions: driving and craft beer, although not at the same time, obviously.
Tell us about your job interviews. We hear you weren't feeling too well.
I was so sick on the train down from Tokyo to Nagoya to attend my final interview, I didn't think I would be able to make it through. Luckily, I managed to hold it together.
The interview process here in Japan is quite different from what I was used to. In the US, generally you're interviewed by just one person who you will be directly reporting to. Here, in the first interview, there were four or five interviewers. Then the second interview I was grilled by various managers from the general manager down.
In the final interview I met the company founder, and it was me and another candidate, which I wasn't expecting. I only found out later that he didn't make the cut.
How does the Japanese workplace compare to your experience in the US?
I know some people say working in a Japanese office can take some getting used to for foreigners, but I've never found it that hard. I'm a car guy, almost everyone here at Tajimi is a car nut, so we have a lot in common. Speaking Japanese makes a big difference, obviously. I don't really have any communication issues. Aside from cars, I've got a big group of colleagues who are into craft beer like I am. It's good having other people who share your passion.
What's the key to success working at a Japanese company?
Integration. Outside of your welcome party, you must make a continual effort to show you are part of the team. This includes joining extra-curricular activities and so-called "nomunication" (work-oriented drinking parties). Also, willingness to go out of your way to help teammates when you are not busy, even if you are unfamiliar with their position.
So no major challenges for you then?
Well, nothing major. Excel, maybe. We do spend a lot of time creating and color-coding Excel schedules and logs. There are so many other project management tools that could do the same thing so much more quickly.
I'm also quite tall, so one-size-fits-all office furniture in an open-plan office can be a bit tough at times.
Where did you pick up your Japanese?
I studied in college in the US and at Temple University Japan in Tokyo. After college I haven't studied intensively, but being in the office I quickly expanded my vocabulary with terms relevant for the job, so I don't have any issues nowadays. My knowledge is a bit skewed towards areas of interest, though. If it's about cars or anything mechanical, you can ask me anything. But I can't say the same for other topics.
I've never taken the Japanese Language Proficiency Test, though. I'm not great at standardized testing.
What does a typical workday look like?
I'm usually in the office by 8:30. Sometimes earlier, sometimes later. Working hours are flexible and vary depending on the projects we have going on. We often have tight deadlines and short turnarounds on major projects, so there will be a bit of overtime in these periods. Occasionally I may do overtime or work later hours if I need to work something out with the teams in Europe.
I coordinate the dispatch of all translations to our group company partners in Europe. They do Russian, Spanish, Arabic, Italian, French, German. I actually studied Spanish and German in high school and can still pick up the occasional error or mistranslation when the subject is in my area of expertise.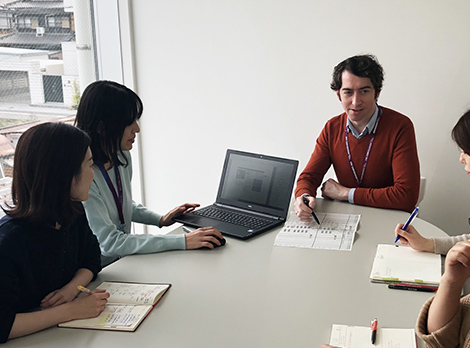 What's your biggest achievement thus far?
Taking the reins for the launch, training, and continued maintenance of new translation software for my old team. I spent a couple days becoming proficient at it and became de facto leader of training others and maintaining the server, as well as resolving issues that have arisen since.
What's the most rewarding part of your work?
There are always new challenges. I often receive one-off projects and translations in subjects other than owner's manuals. Also, being a car geek, getting early access to new models and technology is great. I have to keep tight lipped about this stuff, but often get to translate or at least peruse technical spec sheets, and sometimes even get hands on time with prototypes and models that haven't even been announced yet.
Any advice for jobseekers in Japan?
Live closer to work! I've got an hour plus commute here to Tajimi. Our old office was much closer! My first few years with the company it wasn't uncommon to work 3-4 hours of overtime. Adding a long commute onto that can make you question your sanity, hahaha.