Pierre-Jean Dussart
Project Manager

Marketing Solutions
Planning Department
Pierre-Jean left the security of a position with French advertising and communications powerhouse Havas to see the world in 2015. After a stint in New Zealand, during which time he was paid for such diverse tasks as picking hops, pulling weeds, and burning beehives (they burn well, apparently!), he landed in Japan in 2016, where his marketing and advertising acumen helped him stand out from the competition.
Tell us about your time in New Zealand.
New Zealand was a great experience, life changing in many ways. It was basically my first time outside France and it was a real culture shock. What I thought was common sense turned out to be not so common. Things like ideas about gender norms were very different with some of the people I worked with. I worked with quite a few Maoris, and their attitude, their enjoyment of life, was also a very different perspective for me. I worked with a guy who had been in jail for kidnapping and torture offences. He turned out to be a really nice guy! I worked in a lot of roles, so that taught me to be adaptable. It has held me in good stead here at CMC.
How does the Japanese workplace compare to your experience in Europe?
In France, work is more specialized than it is here in Japan. In France, writers write. Proofreaders proofread. Designers design. Here, you need to be something of a Swiss army knife. This means sometimes things get done more quickly because one person does everything, but I feel sometimes it comes at the expense of quality.
If you ask me what I prefer about France, I would say the clarity. Roles are clear. Who does what is clearer.
There are lots positives about working in Japan. The level of commitment and ownership is often higher. In France, sometimes there's a "not my fault, not my problem" kind of attitude. In Japan, I think staff care more. There's a sense that any problem is everybody's problem. And the commitment to customers is incredible. I think the relative lack of commitment to customers in France would probably annoy me if I was back in France now.
As for what I dislike about working in Japan, I can sum that up in one word: Excel. Why the obsession with making everything in Excel?
So, spreadsheets aside, your experience since joining CMC has been smooth sailing?
Haha, I wouldn't necessarily say that. It was tough at the beginning. My mentor got transferred overseas almost immediately after I joined. I think the company was unsure how to take advantage of my skill set. It took some time for me to carve out my niche, but now I'm comfortable in my role.
My Japanese wasn't so strong when I first joined CMC and communicating was definitely a challenge. My Japanese has improved a lot and now I don't really have many difficulties. I still struggle with long emails, though!
What has changed since you started?
Many things. The work culture has changed considerably in the three years that I've been here. The introduction of flexible working hours has been a big change. There's a lot less overtime. I'm trusted to manage my schedule and that allows me a lot of flexibility to balance my work commitments with time with my family. It's good.
What are you working on now?
Right now? Updating an Excel project schedule. Only kidding.
I'm working on shared design assets for worldwide campaigns. We've created design elements, text that national distributors for our global client can tailor to the needs and tastes of the local market. We won a competitive pitch for the project and it's now been through four iterations now.
It's really satisfying that our work is appreciated and used around the world. It's rewarding when we've finally got something that the client is pleased with.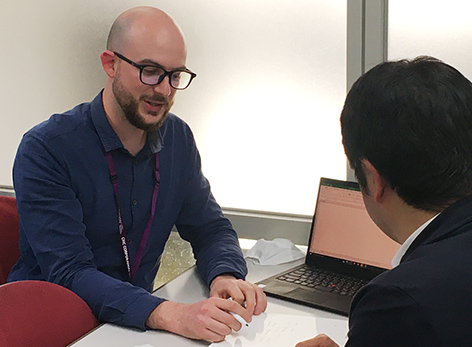 What does the future hold for Japan? What advice do you have for people thinking about working here?
Japan is a comfortable to place to live. It's convenient and practical, everything you need is available 24-7. I'm close to nature, an hour from the mountains. There's skiing, hiking, the great outdoors within arms reach.
As for the future, who knows? Technology is changing everything. Everywhere you look, there are new opportunities, potential new businesses. With so much change, it's hard to predict too far into the future.
I think Japan will continue to internationalize. It needs to. I read somewhere that Japan will be short of around 790,000 software engineers by 2030. How to integrate more foreign workers into white-collar jobs, not just blue-collar jobs, is an issue that needs to be addressed. Internationalizing is not just a matter of making English the official company language.
But I think it will get easier for foreigners to work in a greater variety of occupations in the future. I'm excited about the opportunities.